Nature's sleep mattress is a unique Gel memory foam mattress designed specifically for stomach sleepers although any one can enjoy it .It is a mattress that allows you to sink into the foam, contouring and conforming to your unique body shape
Features
It takes pressure off your spine, especially if you are sleeping on your stomach.
A combination of memory foam layers relieve pressure points and evenly distribute body weight to relieve minor aches and pains. There is also minimal motion transfer, so stomach sleepers who share the bed and shift positions throughout the night won't disturb their partner.
A high quality washable velour cover has stone suede border and is washable, soft and supple.
The foam layers and construction help to provide an optimal sleeping experience for stomach sleepers, improving spinal alignment, and reducing pressure on the sleeper's breathing.
The pressure is off with Superior Gel Technology Memory Foam right at the surface where you need it most.
It has a moderate density support core.
It is CertiPUR-US approved, and adjusts to your unique weight and shape,
The gel beads are infused into the memory foam in its pouring state, causing it to fully penetrate the entire thickness of the foam. The result is a more comfortable, cooler, regulated sleep. The base layer is a moderate density core which provides support, durability and promotes comfort. Together, the layers provide a medium supportive feel.
The ground breaking design of the Emerald gel mattress is a final contestant in INC magazine's 2015 Best in Class Design Award contest.
Different Layers
It is built from 4 different layers of foam. The extra thickness helps to improve durability, better handle weight distribution, and minimize motion transfer.
The top layer is 1.0″ of visco memory foam. This layer is part of a quilted top layer aimed to providing amazing comfort and softness. The top layer is the most reactive layer (adjusts with you as you move during your sleep) and the most temperature sensitive layer.
The second layer is 2.0″ of SGT (superior gel technology) memory foam. This gel layer helps keep the mattress cool by pulling heat away from the top layer and expelling it through the sides and bottom of the mattress. Additionally, this layer acts as both a hybrid comfort and support layer. The foam's density is such that you neither sink too deeply or not deep enough. It's a "just right" type of a feel and sinkage.
The third layer is 1.0″ of Vitex memory foam. Vitex memory foam is a custom foam created for and by Nature's Sleep. It has many of the same benefits of traditional memory foam, including amazing support and great pressure relief, but in addition it is a bit more responsive.Both the gel layer and Vitex layer help to provide great deep compression support and pressure relief.The primary responsibility of the 3rd layer is support. Additionally, it is responsible for the "elevator effect" that really makes this mattress work for stomach sleepers (see the Firmness, Support, & Comfort section below for more on the "elevator effect").
The fourth and bottom layer is 8″ of high-density support foam. This layer acts as a strong foundation for the mattress, supports the 3 top layers, and remains breathable to help cool the mattress.
Cover
The cover is thin, but has a certain weight and strength that communicates its quality. Additionally, it has been designed to allow air to flow around the sleeper, helping to reduce surface level temperatures.
The cover can be removed for spot cleaning, but it is not machine washable. Additionally, the embroidered cover is allergen-resistant and anti-microbial.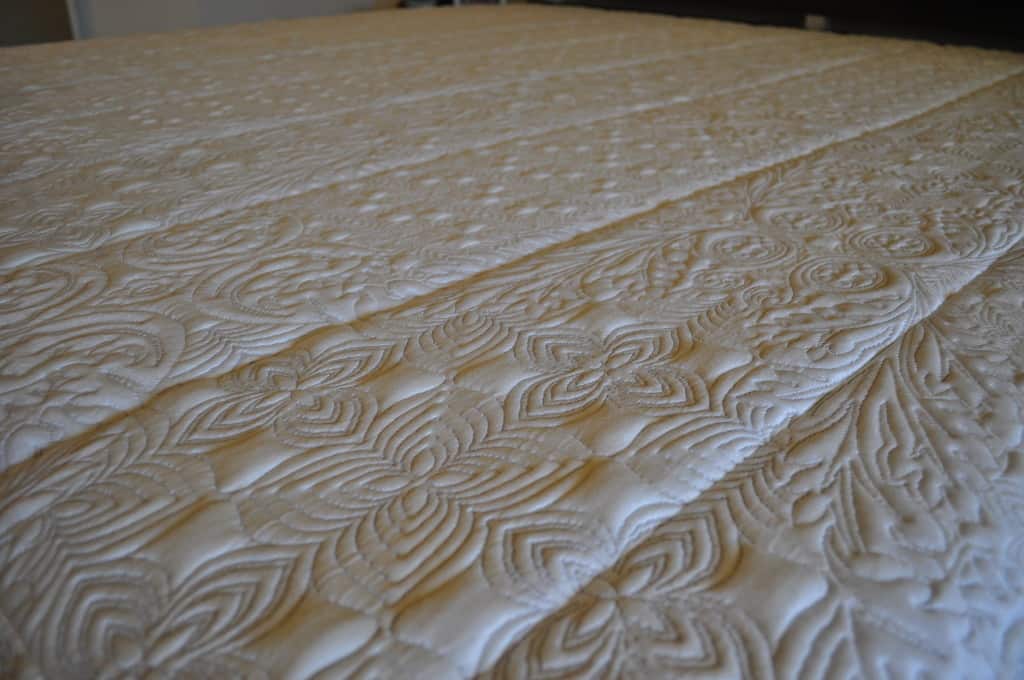 Specifications
Available sizes: Twin, Full, Queen, King, California King
2" Superior Gel Technology (SGT) Premium memory foam
8″ moderate density support core
High quality washable velour cover with stone suede border
CertiPUR-US® approved.
20 Year Limited Warranty
Shipping & Handling is Free
Ships within 1-2 business days
Manufacturer by Nature's Sleep
Designed in the USA