Ashley Chime Express Memory Foam Mattress Review
Pros
superiour body contouring and comfort
Pocketed coil support system
Great value, convenient shipping options
Cons
Can be too soft for some people
Foam smell may take a while to fully dissipate
The mattress can take up to 2 days to fully return to original size once opened
If you're looking for more information about Ashley Chime Express Memory Foam mattress before making your decision to purchase, we're here to help.
Ashley Furniture Signature Design – 12 Inch Chime Express Memory Foam Mattress is the thickest and softest of the hybrid beds in the Chime collection by Ashley Mattress. The Chime 12 Inch Hybrid Plush mattress is a softer feeling mattress.It isa plush comfort mattress great for side sleepers.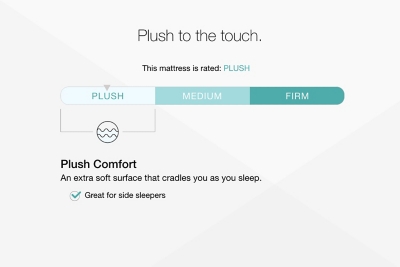 | | |
| --- | --- |
| Size | Queen |
| Construction Type | Foam Construction |
| Brand | Signature Design by Ashley |
| Product Firmness | Plush |
| Color | White |
| Item Thickness | 12 Inches |
| Item Weight | 69 Pounds |
| Fill Material | Memory Foam |
| Dimensions | 74 x 59 x 12 inches |
| Set up | Quick and Easy |
| Warranty | 10 years |
Reasons to buy?
The memory foam is hypoallergenic and is resistant to mold, dust mites, pollen and pet dander so this mattress is an ideal choice for people who suffer from allergies and sensitivity to these materials.
It is a quality mattress in a budget. Ashley Furniture mattresses offer the best value for your money by combining top quality materials with an affordable price point. They also offer a wide range of financing options to make it easier for you to get the mattress of your dreams without putting too much of a dent in your budget.
The supportive core works to keep the proper alignment of your spine as you sleep for several hours during the night. Maintaining a neutral alignment for your spine eliminates pain on your back, shoulders, and neck – making you feel completely rejuvenated when you wake up in the morning, ache-free.
The support core of this mattress works to keep the movement isolated to the specific area of the person who made the movement. This way, the effects of the movement will not travel to the other person occupying the mattress, ensuring uninterrupted sleep throughout the night.
The mattress arrives at your doorstep in a box which makes it easier to set up. There is no need to carry a bulky mattress through doorways and hallways. The package is rolled for convenient transport.
Material It is made of
Stretch knit cover.
The 12 inch mattress has 2 inches of memory foam, 2 inches of transition foam, and an 8 inch poly foam support core.
The Ashley Furniture Chime Mattress is currently available in 8,10 inch or 12 inch thickness. Sizes available are Twin, Full, Queen, King, and California King. This mattress has three internal layers of foam.
How long does it take for a chime mattress to expand?
Mattress is safe to sleep on immediately but can take 72+ hours for any risidual odors from packaging to dissipate and for mattress to completely expand based on ambient room temperature, humidity, air pressure & ventilation.
Is Chime a good Mattress brand?
Yes. Ashley Furniture is a family-owned American home products retailer and manufacturer. Founded in 1945 in Chicago and merged with Arcadia Furniture in 1970, they now distribute their products to different parts of the world.They have 800 HomeStores.
Can you remove the cover to Wash?
Don't remove the cover: there is probably fiberglass inside for the fire barrier. Under that cover the mattress is full of fiberglass.If you remove the cover,it may get stuck to the clothes and blankets.
Return and Sleep trial
There is no sleep trial as such, but you can return it to Amazon within 30 days if you are not happy with it.
Which Bed is Chime matress comfortable for
It is compatible with all bases and frames.
Not ideal for
This mattress may not be the best choice if you want to stay coolly comfortable through the night. The memory foam material tends to become warmer when you stay in one position for a long time. This can result in an overheated feeling when you sleep for several hours during the night, especially when you use a thick blanket or if the air-conditioning is not turned to a low-temperature setting.
In addition, the firmness of this mattress may not be the ideal one for you if you are used to sleeping on a plusher softer surface, or if you simply want to enjoy a relaxing time while on a soft mattress. The firmness can be uncomfortable especially if you sleep on your side and stay there for several hours at a time
Looking for a Cool mattress? Check this.